The Burn Box is a fantastic spot to escape from the ordinary and enjoy a space that is certain to captivate. Host a private event overlooking Main Street in one of Downtown Bozeman's only second story bars. Offering a top-notch selection of beer, wine, spirits, and signature cocktails, the Burn Box delivers inspiration and promotes camaraderie. Our in-house culinary team is committed to producing menus that feature the finest ingredients to meet all of your event's food and beverage needs.
For more information on reserving the Burn Box for your next event, please contact our sales team at 406.214.3917 or sales@rialtobozeman.com.
The Burn Box is also a hub for exploring your inner foodie during one of our House Party Dinners! Relish in unique culinary events focused on exploring a variety of diverse cuisine while you take in the glow of your surroundings. Each House Party Dinner includes a four-course menu paired with the evening's theme, featuring intriguing music, specialty cocktails, and Bozeman's best House Party vibe. Check out our upcoming House Party Dinners below.
UPCOMING BURN BOX HAPPENINGS
FEBRUARY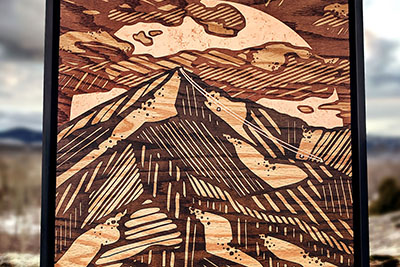 February 26
MOUNTAINTOWN ART RECEPTION
5:30 to 7:30 PM
Join us for an Art Reception featuring the work of Heidi Erickson. Heidi is the 23-time ADDY award-winning artist behind Mountaintown Art™ – a Bozeman based art studio specializing in original, one-of-a-kind mountain art designed to elevate the style of your home and reflect your life well-lived.
FEBRUARY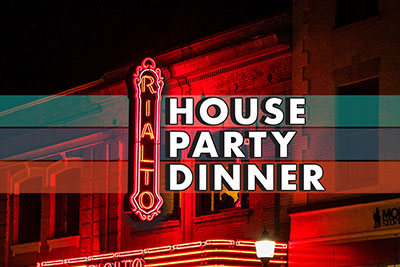 February 29
HOUSE PARTY DINNER
A French-Inspired Wine Dinner
6:00 – 10:00 PM
Join us for an evening of delicious French cuisine and fine wines in the Burn Box at the Rialto during a special-edition leap year House Party Dinner.
The evening begins with a cocktail hour featuring light appetizers from 6:00 to 7:00 PM. Shortly after, dinner will be served! Enjoy a one-of-a-kind five-course menu, each course thoughtfully paired with a glass of fine wine (courtesy of George's Distributing) to savor while overlooking Main Street in Downtown Bozeman.
Courses
Foie Gras Torchon with Stewed Figs
Maine U/10 Scallop with Crispy Purple Potato and Uni Foam
Roasted Squab with Wild Mushrooms and Sunchoke Purée
A Duo of Montana Beef - 72hr Shortrib and Hanger Steak with Creamed Spinach and Pearled Onions
Crème Brûlée
For specific seating requests, please email info@rialtobozeman.com after your reservation is made.
*House Party Dinners seat 24 - three tables of eight. Appetizer spread is served cocktail-style, starting at 6pm. Dinner at 7pm. Don't be late! Featured wine pairing is included, all other alcoholic beverages and soft drinks are not included in the cost of your reservation. Reservations are pre-paid and non-refundable. A 20% gratuity fee is included.