The Burn Box at The Rialto is open from 4pm until close every Thursday, Friday, and Saturday, as well as on show nights! Happy Hour starts at 5pm and features $2 PBRs and Montucky Coldsnacks, $4 Drafts Beers, $4 House Wines, and $1 off all Well Drinks until 7pm. Enjoy Bozeman's best happy hour with a stunning view of Main Street from Downtown Bozeman's only second-story bar. And just a warning – while you may come for the happy hour deals you may also be tempted to stay as the night turns into karaoke, live music, open mic comedy, or whatever else we have up our sleeves.
*Private Event closures may apply. Stay up to date by following our Burn Box calendar on Facebook.
Special Happenings at the Burn Box
OCTOBER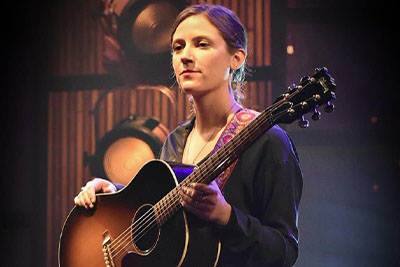 Thursday, October 3
Burn Box Sessions with Lena Marie Schiffer
Doors: 5:00 pm / Show: 8:00 pm
Lena Marie Schiffer plays a blend of traditional and modern folk tunes, alongside original songs and familiar rock/indie tunes. Lena is also known as Laney Lou from the Bozeman bluegrass band Laney Lou and the Bird Dogs and is part of the folk duo The Travelin' Kind.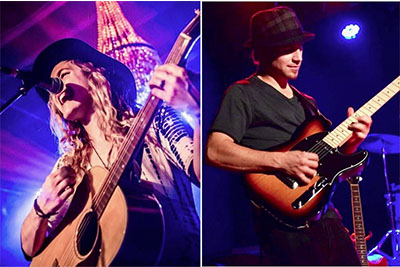 Friday, October 11
Burn Box Sessions with Madeline Hawthorne & Lucas Mace
Doors: 5:00 pm / Show: 8:00 pm
"The Hawthorne Roots are a 6-time award winning rock band from Bozeman, Montana. They have received multiple "Bozeman's Best Of" music awards in 2015, 2016, and 2017. When they are not on tour promoting their new EP, "On Second Thought" Madeline and Lucas play their favorite selection of originals like "Extra Special Bitter" as well as a variety of popular songs like "Tennessee Whisky" and "Use Me". Their music draws inspiration from artists like John Prine, Tedeschi Trucks, Bonnie Raitt, and Fleetwood Mac.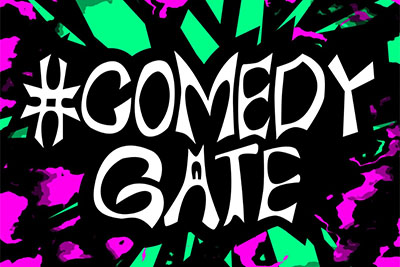 Saturday, October 12
Comedy Gate
Doors: 5:00 pm / Show: 8:00 pm
Comedy Gate is a stand-up showcase featuring local Bozeman talent alongside the best comics from around Montana and the greater North West. Each comic does 10-20 minutes, and a lovely rotating host will make sure that microphone stays nice and sweaty. Come support local performance and don't forget to dust off that big dorky laugh you've had stowed away for so long. You're gonna need it!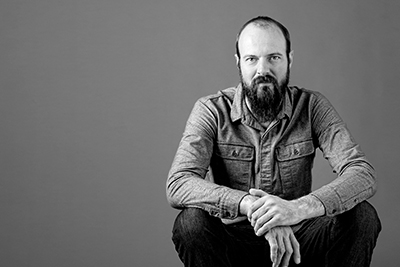 Thursday, October 17
Burn Box Sessions with Joe Knapp
Doors: 5:00 pm / Show: 8:00 pm
A veteran of the Montana music scene, for well over a decade Joe Knapp has been writing, performing & recording an eclectic mix of guitar driven American roots music. Depending on the band or the billing, you can expect anything from depression era folk songs to honky tonk classics to soulful psychedelia. His ever expanding repertoire of originals & covers offers a little something for everyone.
In 2016, Joe made his theatrical debut, composing the original soundtrack to Freak Out the Musical, a rock and roll horror comedy written by Ryan Cassavaugh.
Voted Best Local Solo Musician, 2015, 2016, 2017, 2018 by Bozeman Magazine's ""Bozeman's Choice"" reader poll
Original recordings by: SlomoJoe, The Salamanders, Meatskin Jubilee Jug Band, Freak Out the Musical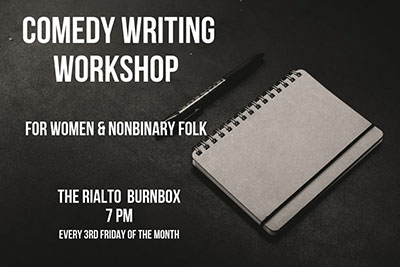 Friday, October 18
Women & Nonbinary Comedy Writing Workshop
Doors: 5:00 pm / Workshop 7:00 pm / Open Mic 9:00 pm
A workshop for women & non-binary folk: a space to learn about comedy and stand-up! Whether you want to try stand-up, improve your humor writing, or sharpen up water cooler banter! All those who participate in the workshop have priority to sign up for the following stand-up comedy open mic at Rialto Bozeman. Try your own 5 minutes, stay and support the other women and folks performing. Open mic begins at 9pm.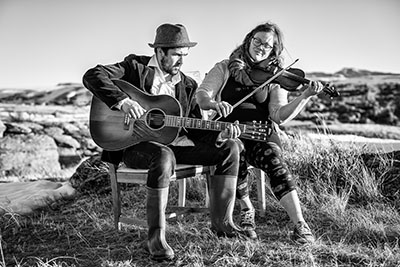 Thursday, October 24
Burn Box Sessions with The Lucky Valentines
Doors: 5:00 pm / Show: 8:00 pm
The Lucky Valentines met playing music and haven't been able to quit. When Jamie first heard Shaun sing, she said to her mom: "I want that one!", and his good friend told him as they listened to her set, "You are going to marry that girl!". She was right. They were married within a year of meeting each other, on Valentine's Day 2010. From the first time they spent hours together, guitars and singing were one of the things that drove the love they grew. Now they have four amazing kids who keep them running around, and fill their hearts with more joy than they thought was possible.
Their stirring original songs are based on their life experience and the observations of others and flavored by the wide-open Montana sky. They write songs to sort through feelings, express thoughts, and spread hope. In 2016 they released their independent record "Lion in the Garden". The album is made of songs exploring the feelings of sadness at losing a friend to suicide, dealing with betrayal and loss, the joy and difficulty of growing up, and the wonder of living life to the fullest. Since then, they have been exploring and playing at Montana breweries, restaurants, hot springs, bars, house shows, and anywhere else they are able. If The Lucky Valentines could do one thing with their music, it would be to bring hope and joy to those they share it with: making beauty out of the ugly things that life sometimes throws our way. They have 50+ original songs, some of which can be heard on Spotify, YouTube, iTunes, and Amazon, as well as live videos on Facebook. You can also follow them on bandsintown and hear the whole shebang live!
The Lucky Valentines, making sad things beautiful since 2009. "Bruce Springsteen and Patty Griffin meet Mandolin Orange in a Gypsy Junkshop"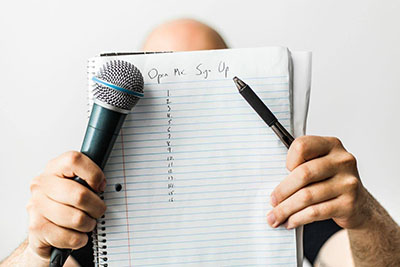 Friday, October 25
Open Mic Comedy
Doors: 5:00 pm / Show: 9:00 pm
Ever wanted to try stand up? Take a chance at Comedy Open Mic! Experienced comedians and newbies alike are welcome to take a shot on stage - or just come enjoy the show. And remember, we're laughing with you.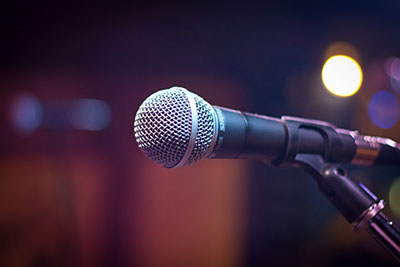 Saturday, October 26
Karaoke Night in the Burn Box
Doors: 5:00 pm / Show: 9:00 pm
Dream of being the star you know you deserve to be? Find yourself belting out the lyrics to Under Pressure while taking a shower while your dog howls because you're hurting their ears? Well, we won't judge you too harshly, because we'll be just as buzzed as you, so come sing your favorites at Karaoke in the Burn Box!